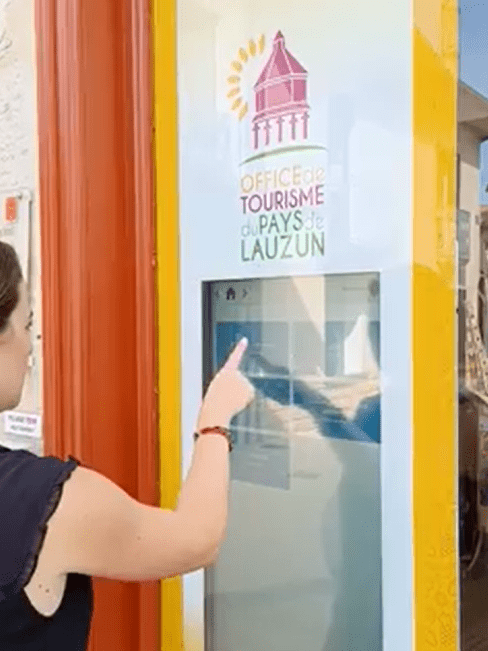 The approach
Present with two offices opened all year long (Lauzun and Miramont-de-Guyenne) and one seasonal office (Allemans-du-Dropt), the Tourist Office of the Pays de Lauzun has for mission the promotion, the communication, and the tourist development of its territory.
The OTPL is part of the Pays Val de Garonne Guyenne Gascogne (Pays V3G) and works in contact with the other Tourist Offices from this group to its modernization.
The Tourist Office worked out its development and modernization project around its core activity: welcome, inform and promote. According to this, the OTPL wants to modernize reception areas and communication modes with tourists, professionals, and inhabitants.
The project
The project consists in putting in interactive digital terminals available 24/7 in the Tourist Offices and on the town hall's square in Miramont-de-Guyenne.
The first screen was put by the end of September at the Tourist Office of Allemand-du-Dropt. It gives access to all the content of the Tourist Office's website, allows to consult the tourist news of the territory (events calendar, restaurants, tours, etc.) at any time and in a fun and entertaining way.
Lauzun and Miramont-de-Guyenne's Tourist Offices will be the next to be equipped.
Enhancements are already planned for an always better high-performance service.
Tested by the team… and approved!
To go further
Why is the OTPL modernizing itself?
To enhance the tourist's experience (reduce the wait time, answer to questions out of the opening hours, etc.)
To move on in a more eco-responsible practice by limiting the printing of paper.
Also to answer to the demands of people with handicaps.
To get users' feedbacks and always have better services to offer.
Partners